| | |
| --- | --- |
| | Nanny Resume Template |
The Nanny Resume Template gives those in the childcare industry an opportunity to focus on developing a resume for a nanny position. Nannies are full time child care providers. This is a very specific and sometimes demanding job. Live in nannies for instance tend to work an average of forty to sixty hour week. However, many in this field find this to be very rewarding. Nanny professionals are well acquainted with child psychology, nutrition, and the law. They're job is to safe guard a child's well-being and development.
Most people, and this includes many parents, do not discern the nanny profession from a baby sitter or even a maid who can just keep an eye on the kids. Nannies concentrate their efforts fully on childcare and raising children. This will require certain skills, attributes, and education which can be demonstrated in a resume.
A good resume will separate a nanny from a babysitter. Utilizing a form such as a resume template will relieve nannies of the troublesome task of formatting the resume and devising the headings (common headings are Objective, Work Experience, Education, Qualifications). Since this form will have all of this thus, a nanny is free to focus on communicating her or his skill. This can be an indispensable time saver since they are not merely competing with other nannies for nanny positions. That is, the more timely their response to a position with a high quality communicative resume, the more likely they will attain an interview for a nanny position.
Sponsored Links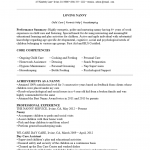 The Professional Nanny Resume Template provides a quick and easy method for engaging a search for the right employment position. Professional nannies will understand that not every family is right for every nanny and that it is wise to cast a wide net when seeking the right opportunity. However, in such a personal field each […]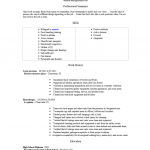 The Entry Level Nanny Resume Template is a good place to start when embarking upon a career as a nanny. This resume form is meant to act as a direction to take when initially composing a resume. In addition, this form may be re-used when a job hunter needs to specialize a resume for a […]