| | |
| --- | --- |
| | Nursing Resume Template |
The Nursing Resume Template can be a valuable tool for nurses wishing to actively a nursing position. This is a very competitive field and nurses will often have to work in a few different places before settling upon a long term position. A constant search for long term positions can truly be frustrating if one is not conducting an organized search. This is why a template is so important. With a template nurses only need to focus on creating one master copy with as much information as possible thus enabling one to quickly revise or simply copy and paste into a new template relatively quickly. Since, hiring entities will need to fill a position quickly, nurses must similarly respond in an appropriate amount of time.
Nurses will be required to divulge quite a bit of information about themselves in a resume. Everything from where one did his or her placements to all the previous positions. This may seem like a staggering amount of information at first however, once an outline with a set format is established the task becomes easily manageable even if many time sensitive opportunities present themselves simultaneously.
When utilizing this template once should keep in mind that a resume is an applicant's first impression upon a hiring entity. This is how a recruiter will evaluate a job seeker's eligibility for an interview. As mentioned before, the nursing resume template will divide the information that must be delivered into standard sections that every human resource department will require on such a document. While some sections may be titled differently or take a slightly different form, each one must be present in some manner. The nursing resume template will have section for contact information, objective/profile, skills, achievements, professional history, education, and awards/achievements. By providing a specific area for each subject of one's professional identity, the nursing resume template produces a well-structured and attractive document which can greatly increase one's chances of achieving an in-person interview when filled out properly.
Sponsored Links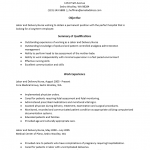 The Labor and Delivery Nurse Resume Template offers a method by which a job seeker may organize the content of his or her resume. In addition, it will offer a sleek no-nonsense professionally attractive resume by having a clearly visible structure. This is particularly important as today's market will require that a resume stand out […]