| | |
| --- | --- |
| | Acting Resume Template |
The Acting Resume Template is a must have tool in any actor's arsenal. Opportunities in acting are highly time sensitive and incredibly competitive. This is an industry where focus and immediacy are paramount in any inquiry regarding a role. Whether one is answering an ad by sending in a resume and headshot or if one must respond immediately to a casting call, the hopeful actor is responsible for a resume that will be not only memorable but outshine others. In addition, this resume must contain mainly information only relative to the role whenever possible (unless they are a beginner).
There are several types of actor resumes and while they may differ slightly they must all be accompanied with a headshot and must all contain some essential information. This information is divided into categories and most of the information on an actor's resume must follow a very specific format. Typically, they are Contact Information, Stats, Experience, Skills, and Education/Training.
Sponsored Links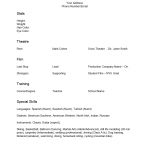 The Special Skills Acting Resume is typically what someone with little to no experience will tend to use or by those with a hard to find or master skill (i.e. you can ride a unicycle on a tightrope). It is also perfect for beginner actors with skills because without much previous acting experience they must […]