| | |
| --- | --- |
| | Graphic Design Resume Template |
The Graphic Design Resume Template is an especially vital tool for graphic designers who are on the hunt for new positions. Graphic Design is a very competitive field and it is not unusual for a certain creativity to be involved with the delivery of a portfolio however, past the fanfare and any unique styles a potential employer will need to see the heart and soul of an inquiry which will be the hard documentation of the skills and experience an applicant possesses.
A resume in this field will require several sections meant to convey this information. These divisions are Contact Information, an Objective/Profile, Qualifications/Skills, Work Experience, Education, and, if applicable, a section for Awards or Additional Skills. By having a clear presentation, a potential employer can easily locate the most relevant information and will usually be impressed when a candidate displays an ability to communicate clearly.
A good graphic designer must possess many skills in addition to an understanding of visual design and communication. They must be savvy enough to find and commission a variety of contractors, actively participate in client meetings, develop presentations, and function in every aspect of a design team. These are just some of the responsibilities a graphic designer will have to live up to if he or she is to be successful. This will absolutely require a high quality resume.
A template will aid a designer in their job search by providing a structural frame that has already been formatted. This will free up a designer's time to focus on the content of dressing up their skill set on paper. In addition, once a master document has been set it can easily be revised on the fly when one sees a time sensitive opportunity which will require a personalized resume to the hiring entity. Such a time saving device can make the difference in attracting positive attention from a recruiter by enabling a job seeker to deliver a very timely high quality resume.
Sponsored Links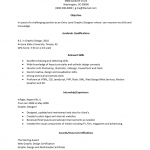 The Entry Level Graphic Design Resume Template delivers a manageable way for a job hunter to develop a professional resume. An entry level graphic designer will want a resume that will deliver information regarding his or her ability to function as part of a team, communicate with clients and fellow team members, and the logistic […]