| | |
| --- | --- |
| | High School Student Resume Template |
The High School Student Resume Template solves a seemingly tricky dilemma for high school students seeking employment. Students often believe that you need experience to get a job and conversely, you need a job to gain experience. The difficulty of this conundrum is obvious however, this is a misconception. One's experience does not necessarily have to be in full time job or even in a paid position. For instance, the volunteer work one does in an office or department at their school, that occasional babysitting job, or the seasonal yard work one does for a neighbor all count as some form experience. These previous examples as well as many extracurricular activities may be considered experience if they require a task to be done responsibly within a given amount of time. This can all be packaged quite attractively on a resume even with a lack of long term full time professional experience.
A High School Student Resume Template will provide sections that can easily be filled out so long as applicants take their time to organize their records and their thoughts. A good exercise is to make a list of all your accomplishments, volunteer work, part time or one shot work, hobbies, and skills. Once this is done you can organize this list into the standard sections (Contact Information, Objective/Profile, Education, Experience, and Relevant Coursework) on the High School Resume Template. Afterwards, be prepared to proof read everything. This will be your first impression on a potential employer so it should be well written and free from errors.
Sponsored Links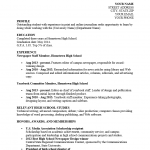 The High School Student Resume for College Template gears itself to be useful to those fresh out of high school who wish to work in a college. This can be a very rewarding career with many benefits and while the competition may be somewhat intense for these positions, a well-constructed resume with impressively written content […]