| | |
| --- | --- |
| | Project Manager Resume Template |
The Project Manager Resume Template is a document which enables to conduct an efficient search for new project management positions. Recruiters, in this field, will require one to showcase his or her abilities and experience for reaching specific goals in a resume. In addition, the candidate's skill set must directly relate to the project description. Therefore, project managers inevitably must customize their resumes to a certain extent and this time consuming task may prove taxing if too many opportunities with specific criteria present themselves at once.
The power of a template with a set format resides in its power for minimizing the response time to a sought after position without risking a decline in the quality of the resume. Since a resume is a major aspect of how a potential employer views a viable candidate when deciding who to call in for an in-person interview, it should make as positive an impression as possible. While the contents of the resume (Contact Information, Objective, Summary of Skill/Professional Qualifications, Professional Experience, Education, Additional Credentials such as Awards) are likely the deciding factor for this decision, a polished eye-catching resume will be what initially sets one's application apart from others. It would be a wise decision at the beginning of a job search to have a standardized format such as the Project Manager Resume Template which one can customize quickly with whatever content and language is deemed necessary for being granted an interview.
Sponsored Links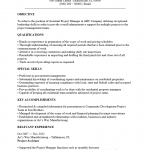 The Assistant Project Manager Resume Template can be a very valuable instrument for job seekers wishing to utilize every advantage when seeking an interview for a desired position. A resume is composed of several sections which are meant to introduce an applicant to a hiring entity such as a potential employer, head hunter, or recruiter. […]