| | |
| --- | --- |
| | Administrative Assistant Resume Template |
The Administrative Assistant Resume Template is useful to anyone wishing to raise the efficiency of a job search through a higher level of organization. This may be wise given the wide range of opportunities present in the administrative assistance field. Nearly every company, corporation and industry needs office support in some form of an administrative assistant. As such, many valuable administrative assistant opportunities can be seen on a regular basis regardless of the job market. This is because administrative assistants can be used on many levels within the same company, have been known to wear many hats, and are generally go to people for managers, executives, and clients. Examples of some of the skills that may be required of administrative assistant include proficiency in a certain operating systems and/or software, client reception, data management, processing, proof reading, and even travel arrangements. Some candidate may have a substantial number of these necessary skills while others may have focused on a particular set. Still others may be on the entry level and may not have enough experience to be considered proficient but still possess a common knowledge on one subject or another. Regardless of the circumstance, job seekers are faced with the daunting task of competing on a stiff market while searching for opportunities in a field where job requirements may differ significantly for the same position title in different companies.
By utilizing a solid template as a base point for constructing a resume, a job seeker may adapt to virtually any ad with only a minimum amount of time spent on revisions. The basic sections to be filled out will be the Name/Contact Information, Objective/Profile, Skills, Work History and education. These may vary slightly depending on such factors as the nature of an industry but the basic idea of conveying this type of information is present in all Administrative Assistant Resume Templates.
Sponsored Links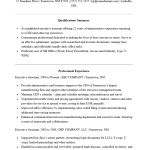 The Executive Administrative Assistant Resume Template focuses on presenting a large amount of information in a stylish format that is attractive and easy to read. Executive Administrative Assistants must display the impressive amount of knowledge and skills necessary to provide a high level of support to executive level administrators, board members, and company owners. Therefore, […]