| | |
| --- | --- |
| | Business Analyst Resume Template |
The Business Analyst Resume Template can be a useful tool when seeking the right position. This is a very diverse field as a business analyst could be called upon to be responsible for a variety of functions or required to focus on only one. Business analysts concern themselves with assessment, improvement, planning, and implementation. Their primary goal will always be to analyze a problem, communicate that problem, and devise possible solutions with the idea of keeping or increasing efficiency and/or profitability. They must have a talent for communication, a strict adherence to confidentiality policies, and possess exemplary problem solving techniques. Additionally, they should have a firm grasp of the industry their company operates in. These are just some of the skills and knowledge that a business analyst will have to convey to a recruiter via this document. These are only some of the staunch requirements one must meet for this field. Some companies will require others as well or different ones altogether.
Those on the job market for a business analyst position may be on the hunt for something specific or they may have a wide range of knowledge and experience. In either case, they must show a certain timeliness and professionalism. A resume template serves nicely to achieve such a goal. Basically, a template may act as a structural form for a resume. It provides headings which will logically divide their information into manageable sections. These sections are typically Contact Information, an introduction (such as an Objective or Profile Summary), Employment History, Education, and one for Additional Information or Additional Skills. Such a form can be useful in the creation of a resume. It becomes a template when it is used over and over again…which is the purpose of a resume template. Here, the original document is created then as potential opportunities present themselves, a job seeker may simply transfer static information from the original onto a new template form and specialize any new relevant information applicable to the job being sought. This can be quite a time saver for the applicant and increase his or her chances of being the first to interview for a valuable employment opportunity.
Sponsored Links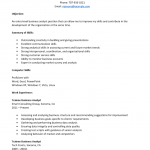 The Entry Level Business Resume Template may be considered a valuable tool for those seeking an entry level business analyst position. This is a position where the entry level candidate will be working under the close supervision of a senior business analyst acting in a mentor role on behalf of the company. Therefore, both a […]