| | |
| --- | --- |
| | Receptionist Resume Template |
The Receptionist Resume Template may be a useful tool for any job seeker wishing to keep their efforts efficient during their search for an employment opportunity. Receptionists comprise a rather large segment of the workforce and this position may vary in its requirements depending upon the industry. For instance, a receptionist may have many administrative assistant duties in a small company or be in charge of patients records in a doctor's office. Thus, potential employers may seek candidates with technical knowledge in a variety of software or be familiar with a certain industry's methods of filing or information gathering. In any environment a receptionist is the first contact many outsiders will have with his or her employers and must do so in a manner that represents their employers favorably. Thus, employers will usually look for experience or knowledge in switchboard operation, multi-line phones, and a variety of software. Naturally, a major sought after quality in a receptionist will be a savviness in communication over the phone, in person, and by email.
A resume template will only offer a guide or a basic structure to one's resume. However the headings contained are standard when it comes to dividing the wealth of information required by this document and profession. While some sections may change or possess different names due to the industry or the preferences of the job seeker there is a basic skeleton which includes Name and Contact Information, Objective, Profile, Qualifications, Employment History, Awards, Additional Skills, and Education. So long as the basic idea of these divisions is in place then a resume template will prove useful in terms of running an efficient job search.
Sponsored Links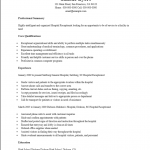 The Hospital Receptionist Resume Template gives its users the ability to reach the maximum number of potential employers. This is specifically useful as this is a growing field which the U.S. Bureau of Labor Statistics (www.bls.gov) predicts will continue in demand and job growth for the next several years. So what is a hospital Receptionist? […]