| | |
| --- | --- |
| | Accounting Resume Templates |
The Accounting Resume Template is a reusable form which may create an accounting resume with. Accountants can be found in a variety of industries and government entities. They will deal primarily with numbers that define their organization's budgeting and financial resources. Their goal is to monitor and balance the books of their company or office which means they will often have to work well with other departments. In addition to monitoring the books, accountants may be called upon to solve any problems they find and occasionally audit other departments or the company as a whole. Accountants will need to display the communication, analytic, and mathematical skills they possess on a resume in order to impress potential employers. While a form cannot provide such content it can provide a structure for which this content may be presented nicely.
By utilizing a form such as a resume template, accountants on the hunt for the perfect opportunity can save themselves quite a bit of time since the headings (Name and Contact Information, Objective/Profile, Qualifications, Work History, Education, and Additional Information) of the resume have already been laid out. Formatting will also be set within this document. This will allow a job hunter to focus purely on language and content for the initial document they create as well as future documents. For instance, if one spots an time sensitive opportunity that requires revisions to a resume (i.e. to personalize it), he or she may simply paste a good deal from the original document onto a blank resume form then focus on those revisions.
Personalizing a resume for a specific opportunity with a specific employer is likely to make a positive impression on a recruiter. For instance, mentioning a hiring entity's company name in the "Objective" and should cater the resume to meet the requirements in that specific ad. A well thought out resume which addresses an employer's needs and is sent in soon after the recruiter posts it will generally give an applicant positive attention.
Sponsored Links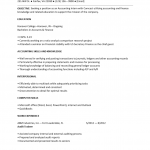 The Accounting Internship Resume Template is a useful document for those wishing to compose a resume for acquiring an internship in this field. Attaining an internship is a vital step for accounting students who wish to take a future career in accounting seriously. While accountants enjoy having a specialized skill requiring specific certification, they must […]