| | |
| --- | --- |
| | Bartender Resume Template |
The Bartender Resume Template enables job seekers to remain competitive by giving them the ability to quickly respond to an ad. Bartending is one of the most sought after jobs across the country and tends to be ideal for those who need a certain level of excitement where they work. In addition to this, it can be a highly lucrative career. Due to the nature of the business when an opportunity presents itself, it is never on the market for an extended period of time. That is, opportunities for bartending positions disappear nearly as quickly as they appear because a bar usually cannot realistically keep its doors open without a bartender present. This presents a challenge to both the recruiter and the applicant. The recruiter will have to quickly decide from a multitude of resumes received who to call in for an interview and the job seeker needs to have a top quality resume that must attract attention in what is often a very small and crowded desk.
Bartenders must be able to present a flawless resume in addition to showing their desire to work in the hospitality industry and their ability to work in high pressure situations. This means that when an opportunity presents itself a job hunter must quickly produce a resume to send catered to the specific criteria of that position and area. A Bartender Resume Template enables such a task with relatively little effort on the part of the applicant.
Sponsored Links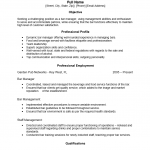 The Bartender Manager Resume Template can be used as an effective tool in the search for a bartender manager position. This document template will provide the necessary sections that every employer will want see when ascertaining whether they have a viable candidate for an in-person interview. Bartender Managers are an integral part of any establishment's work force. They are […]