| | |
| --- | --- |
| | Customer Service Resume Template |
The Customer Service Resume Template was created to aid candidates in attaining an interview for a desired position by giving them a set resume format which may be customized quickly and efficiently in terms of content. This enables a job seeker to concentrate more on presenting their information and less on the formatting issues that often become a part of developing a sought after resume. After all, the resume is the first impression an applicant will make on a recruiter while the customer service field is one where excellent presentation and a talent for exemplary communication are both highly desirable qualities.
Generally, a good resume will contain standard sections: Contact Information, Objective, Summary of Qualifications, Work History/Experience, and Education, some may be added depending on the candidate or position. A resume can be crucial to attracting attention amidst dozens to hundreds of other inquiries regarding employment in a very competitive job market since potential employers and/or recruiters will carefully evaluate a resume during the decision making process for selecting candidates to interview. Thus, it is in the interest of every job seeker to make every attempt in developing a sleek and attractive resume. This is the case whether one is pursuing a customer service position that will further their career or simply temporary work. The Customer Service Resume Template may be used by everyone from entry level job seekers to highly experienced professionals as a time saving tool in their search for a job interview.
Sponsored Links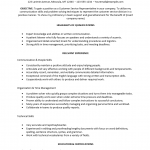 The Functional Customer Service Resume Template can be of significant use to a job hunter who prefers to send a resume that focuses less on work history and more on skills and achievements. This can be a particularly attractive format if used wisely, for instance if an applicant has worked in one company either for […]