| | |
| --- | --- |
| | Teacher Resume Template |
The Teacher Resume Template helps those on a job search develop a document which fulfills the goal of any resume: to increase the chances of gaining an interview and/or a teaching position. Both of these resume goals may only be achieved by having a clear and concise document that demonstrates the qualifications that teacher possesses. This can easily be accomplished with a smart looking resume divided into predetermined sections, each complimenting the candidate's skills, experience, and education. Basically, your resume must look fantastic and the content must be exceptional. Since teachers are expected to take large amounts of information to present in an easily comprehensible way, a resume also acts as an introduction to a teacher's communication and educational skills. In a way, one can think of the recruiter as a student that must be taught about the candidate.
This can be done by breaking down the information being presented into logical sections. The Name, Contact Information, Objective, Skills or Qualifications, Core Competencies, Employment History, Education, Additional Skills and Interests and Awards sections must all appear on a resume in one form or another. How extensive each section is will depend on several factors including one's level of experience. For instance, a beginner should have only about a page of resume presentation while someone with twenty plus years' experience would be expected to have more than one page but both have something in common: the information presented must be well written and to the point.
Sponsored Links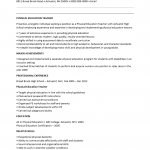 The Physical Education (Gym) Teacher Resume Template provides a medium for gym teachers wishing to compose a resume. The headings will give an outline for a user to fill out. Each section divides the resume into an organized presentation of one's skills and credentials. In addition, the set format offers a sleek eye-catching design which […]